Hi everyone! How's your week going? Mine is insane. It's time to face the facts--it's not possible to continue with the regularly-scheduled quilty projects and work *and* move at the same time. It just is beyond the limits of normal humans. I don't claim to be all that normal, but I did pack up most of my fabric and other sewing things this past weekend. I had 5 boxes, which seems like a lot to me, since this is such a tiny condo. I may have a fabric problem.
You know I just had to leave some fabric out to play with. You know, for stress relief purposes. There's plenty of that around here right now! So here's what I was playing with earlier:
This is a test block for a quilt I drew up for this thing that's going on on Instagram called 30 days of quilt design. The idea is that you draw out some thing to do with quilty design for 30 days between now and the end of October. There are prizes, too, but the exercise is what I'm really interested in. Rachel at
Stitched in Color
is running this, and her post about it is
HERE
. Go read it for more!
A long way of saying that this is my sketch for this quilt:
Just hsts and squares kind of mixed together. I called this quilt design "Kissy, kissy" because all of the pieces "kiss" in the center of the block. The colorful parts here are 8 inches square, so the larger block up at the top of the post is 16 inches square. A few of those would make a fast quilt!
Alternate layout for the individual blocks.
These were fast, easy, and fun! And relaxing! Everything I want sewing to be. I don't have a pattern or anything, but the hsts are 4-1/2 inches and finish at 4 inches, and the square sections are made up of 2-1/2 inch colorful squares, 2-1/2 inch white squares, and 2-1/2 by 4-1/2 strips. You can make 2 blocks from 3 charm squares, if you have any matching ones, Or non-matching! You could make everything smaller or bigger, too, depending on how fast you'd want that quilt to come together.
Another alternate layout!
As I said, I was just playing around. It was relaxing. I have some more fabric out, but realistically I probably won't get much done this week. There are more boxes to fill and a husband to keep fed--oh, and students! Let's not forget them!
One last thing for this post--Bernie at
Needle and Foot
nominated this little blog for a One Lovely Blog award! I'll say more about this later, but many, many thanks to Bernie, who has a lovely blog that you should definitely go visit!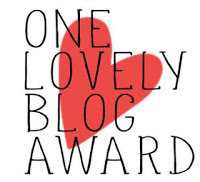 Everybody have a great week! I have a post planned next week for the Intricate Stitches quilt, plus a nice finish post for the week we actually move, so I'll still be around. And you know that I'll be reading your posts obsessively and living vicariously through you, so be sure to pet some fabric for me!
Sharing at Let's Bee Social, Confessions of a Fabric Addict, and
Finished or Not Friday.