Hi everyone, and welcome to my turn on the Autumn Abundance blog hop! The temps have fallen dramatically (really! It was 40 degrees last night!) and it's time to think about cuddling up on the sofa, drinking hot chocolate, and buttoning up because winter is coming. This celebration of the season was organized by Bernie at
Needle and Foot
and is sponsored by
Paintbrush Studio
. We each received some lovely fabrics from Paintbrush, and here is what I managed to do with mine:
An autumn-themed Jewel Box quilt! Aren't those fabrics really great and rich-looking? I'm really thrilled with how this turned out. The fabrics are from the
Into the Woods
line, and the solids are also
Painter's Palette Solids
from Paintbrush. (There are free patterns all over if you follow those links, so check it out and see what you can find!)
This picture is the closest to the true colors of the fabrics.
I was seriously worried about this background color, which is the solid in Curry. Jewel Box quilts are traditionally made with either a black background or a white one to showcase the fabrics, so I wasn't sure how the curry color would turn out. I think it turned out great for a fall quilt! It's such a nice warm color and complements the others so nicely.
Making this quilt is really easy. My quilt turned out at about 60 by 68, a nice cuddle size, and used 42 8-inch blocks. Each of the blocks used 2 4-patches and 2 (gigantic!) half-square triangles. Use 2-1/2 inch strips to make the 4-patches, which should measure 4-1/2 inches before they're sewn into the block. If you want to make a quilt the same size as mine, with 42 blocks, you'll need 84 4-patches. (Strip piece them and they won't take long!) I made the hsts using the Magic 8 method and cut 10-inch squares of each fabric. You'll also need 84 of these. Arrange the 4-patches and hsts like this:
Then it's just a matter of turning the blocks in various directions and laying them out to make the pattern in the quilt. I tried to be as random as possible without having the same colors meet. Somewhat more difficult than it sounds! Join the blocks into rows, and the rows into a finished quilt center. For my borders, I cut the curry color at 1-1/2 inches to finish at 1 inch, and the larger leaf border at 5 inches. Layer, quilt, and bind!
The giveaways are now closed! Thanks to all who entered, and congratulations to Lori and Mary, who won the fabric sets.
And now for the giveaways! I am giving away two sets of fabric:
First, there is this set of fabrics that didn't make the cut for the quilt. They are lovely, though! I received a fat quarter bundle and just didn't use all of them. There are fat quarters of the yellow solid and a patterned yellow, neither of which showed up well with the curry, and also fat quarters of the leaf print and a nice brown, both of which have some pretty metallic accents.
For the second fabric set, I followed Bernie's lead and cut these into charm squares, plus added some leftover 2-1/2 inch squares. I didn't count them, but there are plenty! These would make up into something nice for Thanksgiving, if you're inclined to do that!
To win either of these fabric bundles, leave a comment on this post with a suggestion for something you like about fall. I will draw for these on Halloween, Monday, October 31. This giveaway is open to all, but if you are overseas (outside the US and Canada) I will ask you to pay for the shipping. These don't weigh much!
Be sure to visit everyone else in the blog hop! Not only are there some really lovely projects, but there are more giveaways to be had, including at least one brand new stack of fat quarters. Here is the schedule:
October 24th – Bernie at
Needle and Foot
October 25th – Janine at
Quilts From the Little House
October 26th – Mari at
Academic Quilter (that's me!)
October 27th – Tish at
Tish's Adventures in Wonderland
October 28th – Sandra at
MMM! Quilts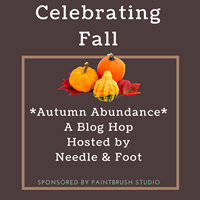 Hope you're enjoying the fall! Sharing at Let's Bee Social, Confessions of a Fabric Addict, Finish it Up Friday, and Finished or Not Friday. See you there! And thanks so much to Bernie and the other hoppers, and to Paintbrush for their generous support of this project.