Hi everyone, and happy spring! Every year I think that I will get tons of things done over spring break, and I always do, but somehow the things I get done are never the things I think I'll get done. So I got a lot of work stuff and house stuff finished (including ripping up carpeting) but not a lot of sewing stuff. Oh, well! I did have a great idea for a new quilt in the middle of some research, but I'll tell you about that another time.
For today, let's talk about the blocks I did manage to make up in the last few days:
Aaahhh! Yep, there's a mistake in the middle block, two rows put on incorrectly. I looked at these 100 times and still missed it.
These are the next blocks for the Steps to the Garden quilt I'm making for the Rainbow Scrap Challenge this year. I really don't have a lot of red, but I managed to scrape up these bits. I admit that the butterfly print is more like a pink or a coral, but it's cute so I used it. The one on the right is a Christmas print, but it got used too. I don't think it's super obvious, do you?
There are a lot of pieces in this block but I think I've finally worked out the most efficient way to make these. If I concentrate I can do three blocks in about 2 hours, which sounds like a long time, but there are a *lot* of seams here. And I'm getting way better at pressing open seams, which I suspect will be the key to success for this quilt since every seam will need to be matched.
Speaking of which, I've now got 9 blocks. I think the red ones fit right in:
These blocks look way better in person than in photos. The greens aren't quite as strong as they appear in the pictures. Overall, I'm pretty happy with how it's turning out, though I am not looking forward to matching those seams!
In other news. . . my friend Bernie at Needle and Foot has expanded
her Etsy shop
into a full service fabric shop! To celebrate, there is a Grand Opening blog hop going on, with a great giveaway from each blogger. My day on the hop will be coming up on Thursday, but here is the schedule for everyone:
Be sure to check out all these great projects and giveaways and come back here on Thursday to see my project and enter my giveaway. My project is a fun one, suitable for children!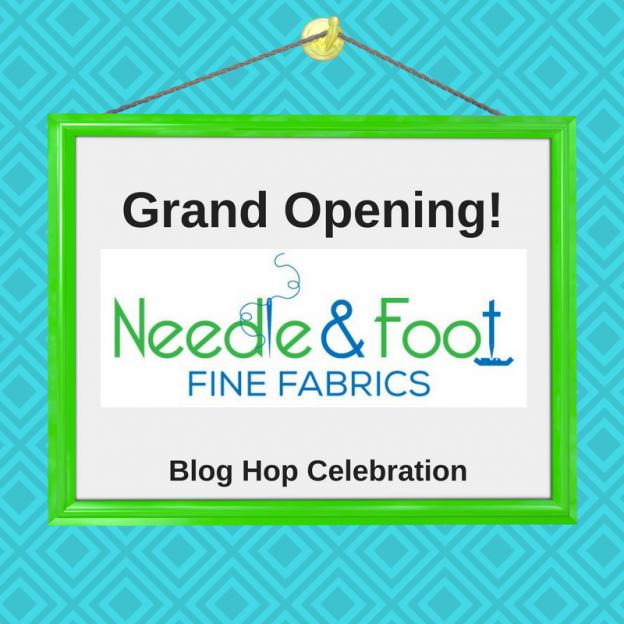 Hope everyone has a great week with lots of sewing time! The flooring guys come back on Wednesday, so I expect lots of hammering and dust. Maybe I'll try to stay at work for a while!
Sharing at Linky Tuesday, Let's Bee Social, and soscrappy for RSC17.