It isn't often that I have *four* quilts to show off at once, but today I do! A few weeks ago, Bernie at
Needle and Foot
announced a new service project to collect doll quilts for
A Doll Like Me
, the project of a lovely person named Amy who makes specialty dolls for children who are not represented by currently-available dolls, because they have limb differences or other physical issues. Who could resist such a fun, happy project, especially after reading Amy's story? Not me, so here are the four little quilts I made to share:
As you can see, I have a helper to show off these doll quilts. This was my older daughter's doll, which inexplicably still lives at my house. Even though I'm an old person I still enjoyed bringing her out to play. And she makes such a nice model! All these pictures were taken on a rainy day, so they may be a little washed out, but I think their cheerfulness makes up for it.
Don't worry, these were washed after the photo shoot!
Each one of these deserves a small description of it's own, don't you think? Let's start with this one:
Those of you who have made Bonnie Hunter's mystery quilts will recognize the units making up this little quilt. I "adopted" these 4-patches from another quilter who gave up on making the quilt, then I didn't make the quilt either. But I still had these units, so I put them on point and then cut some aqua setting triangles and made the little top. I quilted it with aqua thread in a simple cross hatch. It worked out great! I love how the aqua and pink hsts seem to make little butterflies across the top. This is the biggest quilt at about 23 inches square.
The blue and yellow quilt is very busy, but it works, somehow. This was made from thrifted blocks that I didn't even know were in the bag of scraps until I emptied it. There were all the four-patches and a larger block that I used in the center, which you can see if you look carefully. I actually like how it blends in so nicely. There was also a small piece of the yellow and an even smaller piece of the blue in the bag, so I was only able to use those on the sides. This little quilt was also quilted in a cross hatch with yellow thread. It finished at about 18 by 22.
Next is the applique quilt. I made this applique panel years ago in a class about machine applique. This was supposed to be a center with pieced blocks around it, but you can see what happened there. I promise that all of the pieces are very securely attached! The panel was actually bigger, and I cut it down to about 20 by 23, then echo quilted the background and quilted in a bunch of details on the flowers and leaves. I'm actually really thrilled with how this turned out and hope some little person really loves it.
Finally, this might be my favorite little quilt! Super-cute ninjas! Because you know, not all little girls like flowers and such, and some little boys might need quilts, too. I made this one as a quilt-as-you-go strip quilt and it's the only one of the four that actually uses all new fabrics. The size was limited by the ninja piece, so it finished at 18 by 20, which is the smallest of the quilts, but is still a good size for the dolls. Especially if the doll is particularly fierce!
The backings for these quilts were all small pieces that I had in my stash, and all except the ninjas got a floral backing. Flowers just seemed wrong for those tiny warriors.
Each of the quilts also has a machine binding, so they can be washed over and over again. I did have kids of my own, and I remember how much laundry was involved! All of the bindings except the black one came from my basket of bindings made from leftover off-cuts from backings and small pieces, too.
I also made a few hospital gowns to go along with the quilts, using
THIS
free pattern.
These are much more stylish than real hospital gowns and were easy enough to make. I even made my own bias binding for the necks and ties, but only because I was too lazy to go to the store. They will certainly make hospital visits a little more fun, for both the dolls and for their owners.
I had a lot of fun making these little quilts and am thrilled to send them on to some tiny humans to go with their special dolls. I quilted all kinds of good thoughts into these little quilts and I packed those thoughts and some prayers into the box with them as I sent them winging on their way to Amy. If you are in need of a feel-good project, consider making up a few little quilts or gowns. Nothing but good can come from it!
Hope all of you have a lovely weekend. I am probably not sewing much this weekend, but I am strongly considering making brownies as we will have rain today, snow on Saturday, and then rain again on Sunday. I'll need the brownies to keep my spirits up!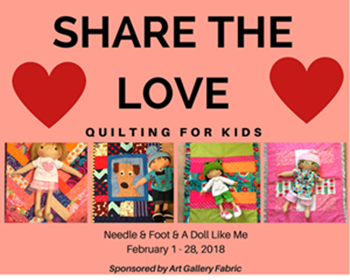 Sharing at crazymomquilts, Confessions of Fabric Addict, Finished or Not Friday, and Oh Scrap!